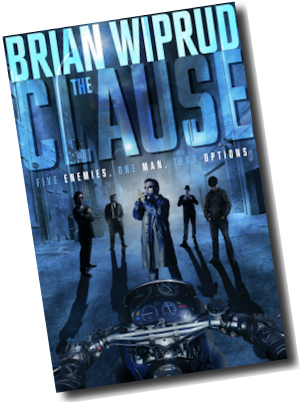 Welcome to the Official Web Site of author Brian M. Wiprud. Cruise through these pages to discover information on Brian's novels, upcoming signings, hobbies and special offers. Visit us again and again, as the site will be updated to keep you informed on upcoming books, articles, reviews and more!
---
Now available from Midnight Ink!
The Clause
FIVE ENEMIES, ONE MAN, ZERO OPTIONS!
BOTYA 2012 Thriller & Suspense (Adult Fiction) Honorable Mention!
150 million in gems stolen from the wrong people. Give them back? You're dead. Run? You're dead. With five enemies at his back, Gill Underwood has zero options. It's kill or be killed!
Jewel thieving partners Gill Underwood and Trudy Elwell have been set up, and Trudy has paid with her life. Working for Cubans and abiding by their code of conduct means Underwood is left on his own, holding $150 million worth of hot sparks. A former naval intelligence officer, Underwood uses his knowledge of Sun Tzu's Art of War to outmaneuver his enemies—the ruthless Serbian and Chinese crime syndicates who will stop at nothing to recover the jewels. With speed, technology, brains, and brawn, Underwood must survive a multi-layered game of cat and mouse that leads to the most clandestine levels of U.S. intelligence.
Get ready for Brian Wiprud's latest exciting novel! All that you've come to expect from Wiprud is here : quirky characters, mystery, excitement and thrill-a-minute narrative!
Click here for more information and read the rave reviews!
---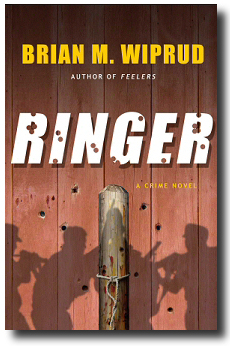 Available from MINOTAUR BOOKS!
RINGER
2012 nominee, best contemporary mystery
RT Reviewers' Choice Awards
Charged with recovering a sacred relic for his La Paz diocese, Morty Martinez (of Feelers fame) hunts down a gold ring on the finger of New York City billionaire Robert Tyson Grant. The holy quest lands Morty squarely in murderous cross plots between the billionaire and his tabloid-prone stepdaughter, Purity. Grant's conniving girlfriend, a decapitation-happy hit man, and an avaricious fortune teller have their own agendas that put Morty at the center of a sensational murder trial in Mexico. All as told by Morty the night before his execution.
The action and adventure continues this July, as Brian Wiprud takes you on a journey through suspense, murder, and more!

Click here for more exciting information and an exclusive excerpt!