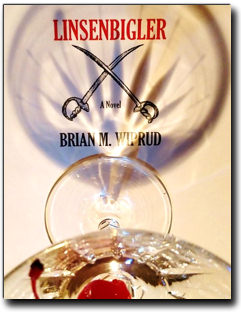 LINSENBIGLER
I DESCRIPTION I REVIEWS II



"The crime-fighting protagonist remains an indelible character, worthy of sequels."
---
A novel that propels a reluctant liquor pitchman into a maelstrom of perilous situations populated by Drug Enforcement Administration agents, Mexican cartel kingpins, Guatemalan military honchos, and random beautiful women.
Click here to download more information.

"The crime-fighting protagonist remains an indelible character, worthy of sequels."

"Fly fishing, exotic cocktails, drug lords, damsels, swordfights, murder and redemption -- Linsenbigler provides them all and more in an entertaining, picaresque romp of a read about a witty bon vivant who becomes a reluctant and endearing action hero. Here's a toast to the fabulous and charming Boone Linsenbigler. I can't wait for his next adventure!"
- John Lescroart, NY Times Bestselling Author
"Of great pleasure are Wiprud's inclusions of arcana about "drinksology" as well as fly-fishing. The hero offers: "Ever the iconoclast and contrarian, I prefer to make [Manhattans] with wheat-based bourbon as opposed to rye-based." ... the crime-fighting protagonist remains an indelible character, worthy of sequels."
- Kirkus Reviews Magazine, Featured Review (Click to read the full review)