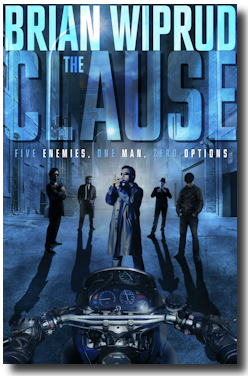 THE CLAUSE Five Enemies, One Man, Zero Options
BOTYA 2012 Thriller & Suspense (Adult Fiction) Honorable Mention!
I DESCRIPTION I EXCERPT I REVIEWS I

"Wiprud's prose is wickedly funny and thoroughly entertaining."
— RT Book Reviews TOP PICK
---
Jewel thieving partners Gill Underwood and Trudy Elwell have been set up, and Trudy has paid with her life. Working for Cubans and abiding by their code of conduct means Underwood is left on his own, holding $150 million worth of hot sparks. A former naval intelligence officer, Underwood uses his knowledge of Sun Tzu's Art of War to outmaneuver his enemies—the ruthless Serbian and Chinese crime syndicates who will stop at nothing to recover the jewels. With speed, technology, brains, and brawn, Underwood must survive a multi-layered game of cat and mouse that leads to the most clandestine levels of U.S. intelligence.

REVIEWS

"Abundant action, comic confrontations (shades of Elmore Leonard), and clever deceits make for a fun-filled read. The final twist is not to be missed."
-LIBRARY JOURNAL – STARRED REVIEW
Click here to read more!

"Wickedly clever and meticulously engaging crime fiction by a master of the genre."
-FRESH FICTION


Click here to read more!
"In this fast-paced thriller. Wiprud excels at creating a sense of place; readers will feel like they're right there with Gill on New Jersey's Gold Coast and throughout the Big Apple and beyond."
-RT BOOK REVIEW


Click here to read more!

"Gill's manipulation by the Feds is either paranoid fantasy or deadly accurate. The blending of forms makes for choppy reading, but there's enough action here to keep one going until the book finishes as a novel of revenge."
-BOOKLIST
Click here to read more!

"Amid almost comically obscene exchanges among the Serbians, the fast-paced action builds to a devilishly complex solution to who's the real puppet master."
-PUBLISHERS WEEKLY
Click here to read more!

"An intricate caper novel full of humor provided by Gill's ironic first person narration and complex plotting courtesy of the talented Brian Wiprud. Why is it that guys like him don't get the sales that junk from other best-selling, unnamed thriller writers get? Sigh."
-MYSTERY LOVERS BOOKSHOP REVIEW
Click here to read more!

"The Clause will appeal to readers who look for Bourne identity style thrillers. The book is carefully plotted, slowly revealing the schemes and the identity of the anti-hero Gill, who is not what he seems to be, while at the same time keeping him breathlessly on the run from three flavors of bad guy and the law."
-NIGHT OWL BOOK REVIEWS
Click here to read more!